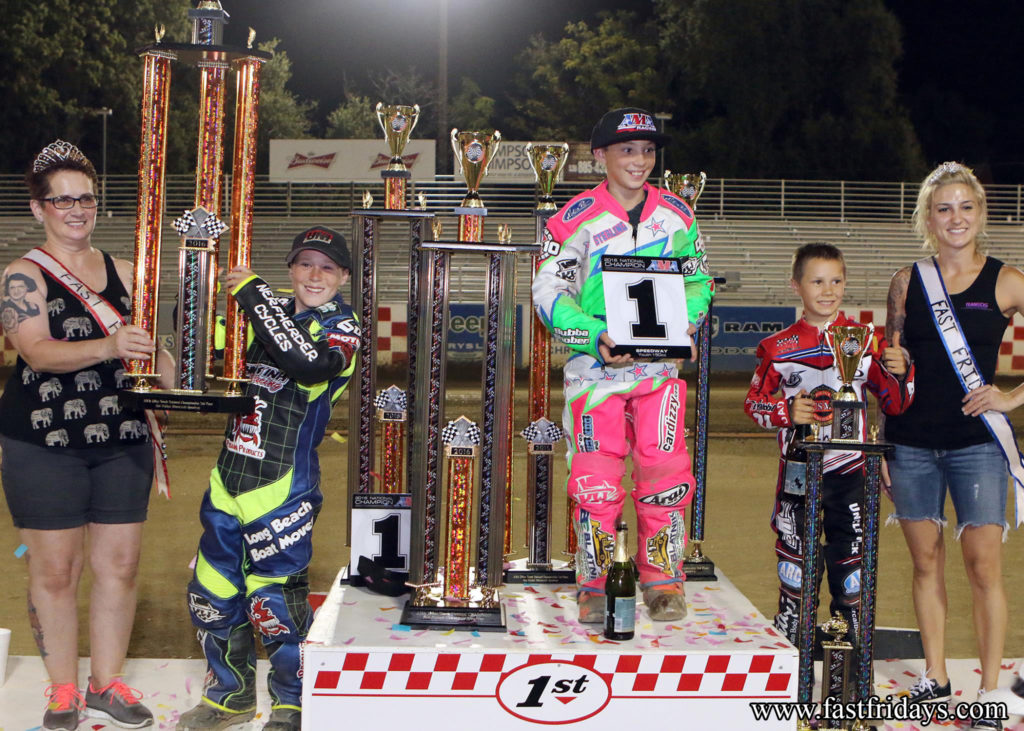 NORWALK, CA (AUGUST 8, 2016): SSR Motorsports is proud to congratulate Slater Lightcap and SL8R Racing on their 2nd place finish in the 2016 AMA Youth Speedway National Championship.
Slater had a tremendous championship run, dropping only one point over his 5 tricky heat races held July 29 at the Fast Fridays Speedway in Auburn, CA. Lightcap, who is only a few days shy of eleven years old, was throwing down some serious hot laps in practice. Slater was happy with his set-up going into his first heat race, and the SSR Motorsports motor in his race bike was running strong as usual. SSR Motorsports has been supplying SL8R Racing with 140cc racing motors all season long, powering the team to 9 main event wins, 7 additional main event podiums, and over 50 heat race wins!
Slater used that SSR Motorsports power to win the hole shot in every start, and he went on to win 4 of his 5 heat races. This exceptional performance gave Slater 14 points towards the championship, finishing only one point behind the reigning AMA Youth Champion Sterling Martin. Slater's father and crew chief Keith Lightcap said proudly, "The night ended with spraying sparkling apple cider on the podium, the bike passing post-race inspection, and Slater taking pictures and signing autographs… AWESOME NIGHT!!!"
"SSR Motorsports is continually striving to produce the highest quality products available, and Speedway racing is a great opportunity to test and prove the durability of our units," said SSR Motorsports V.P. Mel Harris. "The great success SL8R Racing has had this season speaks to the power and reliability built in to every SSR Motorsports product."
SL8R Racing's next stop will be at the prestigious AMA/FIM Youth Silver Cup Championship on August the 14th. SSR Motorsports would like to thank Slater and Keith Lightcap along with SL8R Racing for their hard work and dedication, and wish the team a safe and winning remainder of the season!