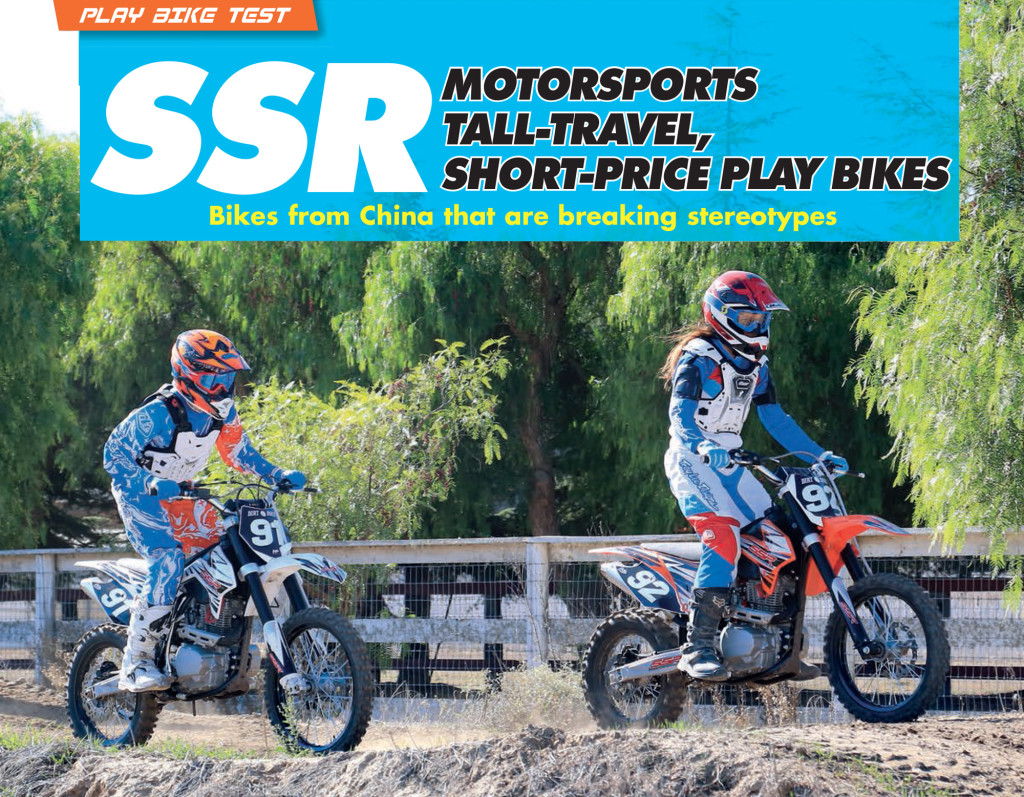 Most dirt bike riders have had at least some experience with a Chinese-built dirt bike—either riding one or, more likely, having somebody ask for help with one. The bikes we experienced 10 to 15 years ago ran fine but were ponderously heavy, had suspension that was either immovable or bottomed when you sat on it, and the controls were clunky and either bent like string cheese or shattered like pottery. The 2016 SR150 and SR189 will explode those stereotypes.

THE LOOK
Both the SR models have a great look, plush and adjustable suspension, a nice riding position and controls that are brag-worthy. The SRs are similar in size to the popular Honda CRF150F, but rather than mimic the styling of any of the Japanese brands, SSR chose to go for the KTM look. The SR150 uses the standard 14/17-inch wheel combo of a normal 85cc motocross bike, but it feels more like the CRF150F with its 16/19-inch wheels. For suspension, there is an inverted fork with compression and rebound adjustments. The remote-reservoir rear shock has adjustable preload and rebound.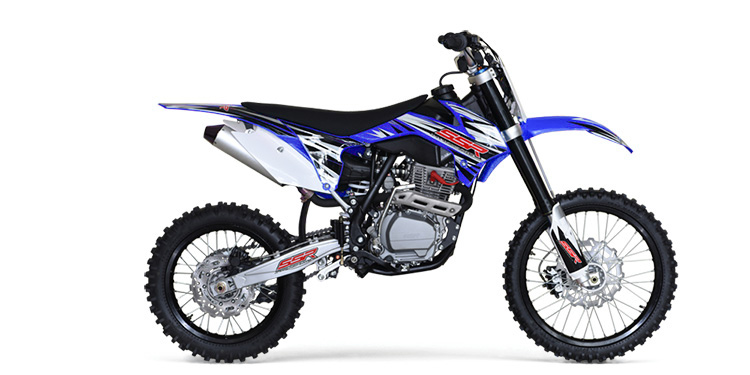 Even though the SR189 shares the CRF's 16/19 wheel combo, it feels larger and taller than the Honda. Both of the SR models have a tapered aluminum handlebar that allows a wide variety of riders to fit well and ride comfortably. There are two sets of handlebar mounting holes in the triple clamp, so you can further fine-tune the riding position.
THE RIDE
Going for a ride is easy. Turn on the ignition key and fuel. Pull in the clutch and clutch-lever-mounted choke lever and hit the electric-start button. Our bikes always fired easily and didn't require the choke for long. The clutch pull is comparable to Japanese play bikes, but the shift levers are very short to allow this motor architecture to work with this chassis and footpeg location. Still, we had no problem with missed shifts, although upshifts required a firm toe, and our young riders, Madeline "Maddy" Huss and Chase Stangl, never complained.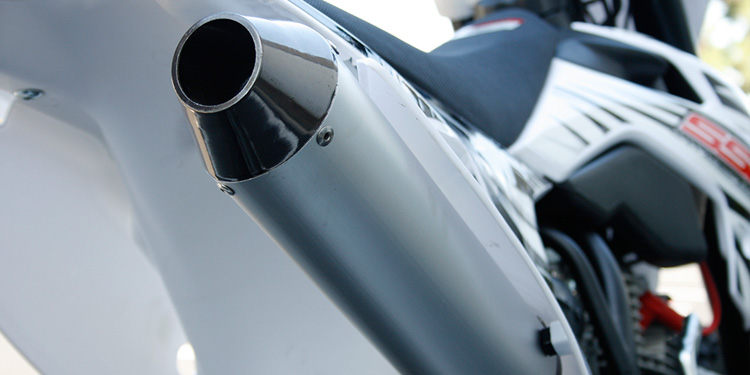 These bikes do not come with spark arrestors, so in California we were limited to riding on tracks. Fortunately, we were able to ride at the Huss Ranch track in Maddy's backyard, which has two tracks that are mild enough for pit bikes. Another rider had a Honda CRF150F that was dialed in nicely for track play, so we were able to do some back-to-back comparisons. Power is quite similar between the 150s, with the SR having a little edge. The SR189 is noticeably snappier, with more power and response. Unfortunately, with wide-ratio transmissions and soft, active suspension, these bikes aren't very well-suited to tracks. Our riders had a lot of fun, but the bikes bottomed hard on landings. On acceleration chop and braking bumps, however, the bikes are extremely plush and soak up everything.
GOOD STUFF
There is a long list of good stuff on the SR play bikes. The forks have 37mm tubes, so they are on par with the best of the racing mini cycles for fork size (with the exception of the KTM). The shock shaft is 16mm. It wasn't too long ago that those were numbers worth bragging about for a full-size motocross bike. Thankfully, SSR cleverly copied more than the KTM look. The bike uses a singlebolt seat attachment and has a large, side-access airbox with an oiled-foam air filter large enough for a 450cc bike. The tapered bar with bar pad, adjustable handlebar mount location and wide footpegs are also in the plus column. No spark arrestor is a major drawback in many parts of the country, and as yet we don't know of anyone who makes a spark arrestor for the SSRs. We didn't weigh the bikes, but they did feel a little heavier than the Honda CRF150F, and the CRF150F is no light weight.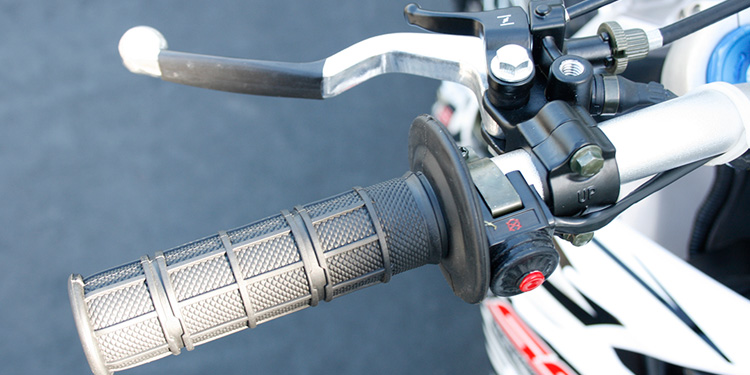 It actually weighs roughly the same as a CRF450R motocross bike. None of our riders complained about the weight, but it will be an issue for smaller riders. Maddy and Chase both normally ride full-size bikes. We also swapped bikes with a CRF150F rider, and she wasn't bothered by the weight but did praise the suspension. The rear brake is great, but the front takes a fair amount of effort. The lever feel is solid, but the stopping power comes in smoothly without a lot of bite.
Where the SSRs really shine is price. At $1899 for the 150 and $2199 for the 189, they are considerably less expensive than other play bikes with far more basic suspension packages. The 189 looks and feels great after a non-stop, rider-swapping day at the track and racing a Grand Prix. During that time the bike crashed twice. Both times we had to clean sand out of the throttle, but otherwise the bike looks and feels new. One fall bent the brake pedal a little, but we were able to straighten it, and it suffered no ill effects.
Obviously, it is too early to say anything about the SSR minis' longterm reliability, but so far they feel plenty stout, and they are backed by a 60-day warranty. We have seen the warehouse, and it is impressive. SSR claims to have parts for every bike it has sold. Hopefully, we can get some serious miles racked up and see how it goes. We think it will go well. ❏
Learn More for specifications.